So, with this whole "unprecedented global situation" going on these days, I've found myself holed up at home lately like everyone else. I feel like life is telling me that now is the time to start writing my fiction novel that I've been putting off for years.
There used to always be an excuse to put it to the side, like having to spend all day on errands and going to work. But now I've legitimately run out of any real reasons to keep putting it off.
Yay for me.
Awkward Self-Realizations
So, to be honest, even though I'm a native English speaker and took so many English classes during my school years, my writing is still unexplainably far from perfect. Somehow, I suspect that's the same for many of us no matter where we went to school.
Occasionally, I find myself switching from first person to third person without meaning to do so. Sometimes I add the wrong number of commas in my sentences or, even worse, put them in the wrong place. That can provide for some unintended results for a fictional story, let me tell you.
It gets worse. I run into the problem of misusing homonyms like "there", "they're", and "their" more often than I'd like to admit. Yes, I understand the difference in meaning between the words. However, when you're in the zone just writing, sometimes you type the wrong one and don't even notice it. I've learned that it just happens.
Now that I think about it, there's not enough time in the day to list my spelling and grammar mistakes and now I hate myself. Not really, but I needed to do something, and I didn't think going back to school would help.
Besides, just thinking about school is so overly cringey to me. Long story short, I find myself deep in a search for a good grammar checking service.

They Got Me Good.
After doing my research (5 Google searches and a FB post, yes!), I just pulled the trigger on Grammarly. They seemed to be the industry leader and the grammar service that everyone was using, so I really couldn't avoid trying it out.
I knew that my novel would be a long project, so I took the free 7-day trial with a plan to purchase the annual subscription for about $140 instead of the $60 3-month or $30 per-month plans.
I thought the price was honestly a little on the higher side, but that it would be worth it to save me time and help my novel happen if the service worked as well as they claimed.
What Didn't Suck
As far as the tiers Grammarly offers, the Premium service seemed to offer the most complete package of tools for my specific project. It not only checked my spelling, but it also made sure that my punctuation usage was correct.
The plagiarism checker that's included with the premium account was at least comforting just in case Stephen King wants to get froggy with any wild accusations.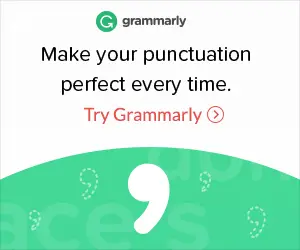 One part I liked, but was somewhat weirded-out by, was the alternate word suggestion feature. So, I'm in the middle of writing when the program makes some suggestions to me a few different times about different words and phrases I could be using instead that, no lie, sounded better most of the time.
It definitely felt like it was improving my chapter and I wasn't sure what to think at that point.
I found myself taking its advice a few times and then started thinking to myself "Am I going to have to start giving a grammar checker program co-writing credit?" "Is that even a thing?" "Can they see me right now?"
After boarding up my windows, I checked their terms and, luckily, their terms say that credits won't be necessary so I should be fine.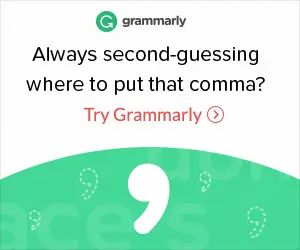 Overall, I found that the program was very fast and user friendly. Grammarly's on-the-spot grammar checker was on point. It integrates directly into Word and snitches on you quickly and frequently, both of which I find necessary.
If you just want to run a scan to check something, you can literally just copy and paste whatever you want it to check into the box and submit it.
After it scans the writing for a few seconds, it provides you with a very detailed report of what's going wrong with the piece and what can be improved, plus suggestions on how to fix it.
You can even set the style of writing you're submitting. In my case I used the "Creative" style, but you could use the "Business" or "Academic" setting if you need to check something more professional. That helped a lot too. Good going, grammar checker.
Dropped The Ball There, Grammarly.
I have to say, if I was looking for cons and had to hate it, I would start with their commercials. They just feel so condescending. I don't want to be reminded of how I suck at my own language, or how I'm just like the dunce that's in the ad! Maybe it's necessary in order to convey the need, but my feelings refuse to agree.
The other thing, as I mentioned before, was the initial price concern I had as I'm not totally for the whole subscription model that everything has now, but I do understand the need to keep something like this up to date and that some necessary upkeep comes with that.
Really, you get what you pay for and Grammarly's regarded as the best grammar checking tool. In real life use, I've seen the cost is small compared to the time (read: money) it has saved me. I also feel like a pro at writing now, so it helps inspiration.
Give It To Me Straight
I've used Grammarly for a few months now and I would have to say it has improved my writing overall.
My novel is definitely coming along (I'm already 7 chapters in and counting!). I wasn't planning to renew it once I finished my book, but it is somewhat difficult to picture writing without it now. Maybe I'll assess that when it's a best-seller and my many fans demand more.
So, is Grammarly a win? Well, it helped me write this Grammarly review you're reading here, and I dare you to find any mistakes.
They do offer plenty of free tools, so I would recommend at least starting with those. If you are someone that works regularly with email correspondence, writing assignments, or other wordy documents, it will definitely save you some costly embarrassing moments.